DJ Red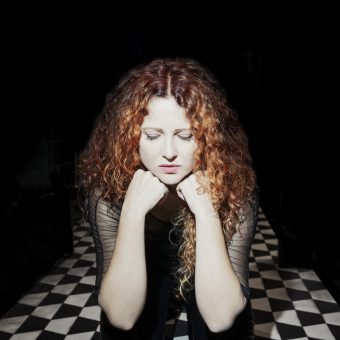 Biographie
Creation is at the base of everything, energy that transforms in something special. A flow created by the artist, which is received by the public as a message, an object or a sound. A flow that goes back to the artist as feedback from the public. This is DJ Red's mantra, moniker of Simona Calvani, Roman by birth. After spending years studying fashion at the local Accademia, she started to produce a range of design accessories, an experience that went hand in hand with her passion for music. Handbags and record bags were amongst her early creations; these were regularly filled with the latest vinyl, which has always been her favourite format for music.
In the 90's like many others she started following the rave party scene. Attending the World Beat Dance, one of the first rave in Italy, triggered in her an unconditional love for a particular genre of music, techno. Witnessing and participating in first person to an unprecedented generational change contributed greatly in influencing her music career. Simona latched to the vibe that was engulfing her home town. It was the birth of a new sound with its own clear identity manifested by artists such as Autechre, Boards of Canada, Aphex Twin, LFO, Mous on Mars ,Pansonic. Those were the main influencers of her early music style. In 97' she began to play ambient and electronic music at various club nights around the city when she was asked by DJ Giancarlino to perform at Goa Club, one of Rome's finest dance clubs, where she's now been a resident DJ since '98.
She co-promoted with Giancarlino various club nights amongst which was Modula, an electronic music showcase held every Wednesday at the Goa Club. An ambitious and innovative project aimed at an alternative public, which eventually involved all the artists she loved and respect. It was here that her music style took shape, with the eagerness of experimenting with new beats, with more eclectic elements, with greater focus during her DJ sets on the selection of elegant and deep sounds.
Despite being influenced by the minimal techno genre, she never changed or upset the extremely refined baselines that have always characterised her DJ sets.
A constant research carried out throughout the 10 years spent working as a resident at the Goa Ultrabeat club night has helped her develop a very personal sound style. She participated to some of the most important events ever held in Rome: Dissonanze in 2003 e Amore Festival. In 2005, she released her first Ep "Silk or Metal" on Unpolite Recordings, one of the tracks, "Rame" was immediately included in Cocoon's "Green and Blue" compilation. Another two singles followed in 2008, "Silk or Metal 2″ and "The Fresh Flash", during the same year Simona moved to London, an essential stage in her artistic development. A continuous journey that will eventually take her to Berlin in 2012 after being signed up by Miss Allien's BPitch Control label. Her latest production, the first as a Berliner, is called "Eyes are Blind" and will be released later this month. In the meanwhile, Simona continues to entertain revellers in Rome where she regularly plays at the Ultrabeat and Anarchy in the Club parties. From Rome and Berlin , she often travel to other European cities when she's booked through the BPitch DJ agency with the aim of always trying to provide a particular energy that can be transformed in something special.