Galaxian aka NAIX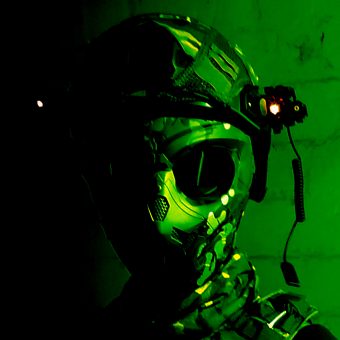 Biography
Galaxian has made a crucial contribution to modern electronic music at once de-constructing and turning it on it's head while making bold strides into unexplored territories. Often recognised as a pioneer & innovator of an increasingly singular sound his inventiveness is only surpassed by his ability to mine consistently new seams of sound, rhythms and intricate arrangements.
More than a decade of authoritative releases on labels such as Ilian Tape, Tresor & Return To Disorder and counting Aphex Twin, Mary Anne Hobbs, Helena Hauff & DJ Stingray among admirers, the latter being sometime collaborators. Songs shift through gears with ease, often veering in wild directions, while others hold the listeners attention with unsettling beauty. Build-ups reach climatic peaks, breakdowns disintegrate into unearthly signals, melodies erupt from a wave of psychedelic synth lines or ice cold industrial noise.
Starting out as a DJ long before becoming a producer, DJ sets display a depth of knowledge and experience, brimming with confidence and self-assuredness. Stylistically mixing style is rooted in a classic old-school approach, completely contemporary in track choices, techniques and performance. Sets are tightly woven, dynamic, incendiary, evocative. A defiant, unorthodox and unique aesthetic & philosophy have captivated audiences across the world with searing performances that command attention.
2017 bolstered Galaxian's growing reputation and introduced his sound to a broader audience. Playing throughout Europe, BBC Radio1 airplay and end of year accolades, RA "one of the tracks of 2017". Releasing "Blowback" EP on Foul-Up, "Dosing the Population" on Lower Parts and "Uprising" on Shipwrec & tracks on Repitch and 3TH compilations.
2018 was year of consolidation with touring in India, Russia and shows throughout Europe including Tresor, Katharsis and a Boiler Room performance at Present Perfect Festival. Releases included a featured track in Mumdances highly regarded "Shared meanings" compilation and "Paradise Engineering" on close ally Helena Hauffs label Return to Disorder which received glowing reviews from DJ mag Mixmag and Resident Advisor, V/A on Sunil Sharpes Earwiggle label series. Numerous radio plays on BBC Radio 1, NTS and Red Bull Academy
Most notably 2019 begun with a 4 week tour of Asia playing in China, Seoul, Bali, an appearance at Dekmantel UFO II stage in August and a Saturday night closing set at Polands Up-To Date Festival. "Golden Armageddon" EP [Natural Sciences] hit the streets in summer 2019 with glowing reviews in DJ Magazine & Mixmag. "Coming up for Air" EP (08.10.19) on Ilian Tape received numerous airplays from Mary Anne Hobbs on BBC radio 6 while Aphex Twin has been playing Galaxian at his shows.
The later end of 2019 took Galaxian to play in the USA for the first time and was punctuated with "Coming Up For Air" released on Ilian Tape and "Self/No-Self Vol1" coming out on DMX Krews label, Breakin Records to enthusiastic critical & fan acclaim.
In 2020 during the lockdown period and beyond Galaxian produced copious amounts of material new, three albums, sixty plus tracks. Songs featured on both Helena Hauffs Tresor Kern mix and K7 Records illustrious DJ kicks series by Special Request (Paul Woolford).
2021 was a year of further self-reflection. Launching a new pseudonym "Kas" with a 2×12" LP "Like Sunlit Threads" on Ilian Tape, exploring a deeper feel, spiritual side that was enthusiastically received.
Released late March 22 "Destroy Your Future" mini album became Junos album of the week and We Are Power – Galaxian's first full length album in over a decade – has been also highly praised.
Launched in early 2023, Naix is the new brainchild of renowned producer Mark Kastner better known as Galaxian. Adding another aspect to Kastners ground-breaking work as Galaxian & Kas. Forging it's own identity & unique sound it's antecedent heritage can be found most closely in iconic labels Warp and Rephlex & luminaire artists like AFX, Squarepusher, Caustic Window, Mike Dread, Clark, µ-Ziq with strong techno aspects reminiscent of Bjarki, Surgeon, Perc. An intricate mosaic of barking, overdriven drumwork, shimmering orchestral backdrops punctuated by frazzled circuits. Uneasy bedfellows with intimate, string sections, delicate and fragile undercurrents or incessant, primal, 4/4, smash-face kick drum patterns and beatless, free-floating songs, all prodded & probed. Vitality and immediacy are given centre stage.
In February 2023, Mark released Naix "Remains" 2×12″ LP on Furthur Electronix accompanying the debut of a bold new all-hardware live show & performance dates. Further releases are scheduled plus and exciting live and DJ tour schedule is planned.