Regal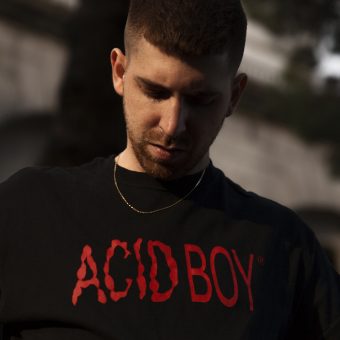 Biographie
Following a string of releases on his Involve imprint, as well as Figure and Enemy Records, Gabriel Cassina aka Regal is one of Techno's most exciting talents of recent years. Since 2012 the Madrid based talent has quickly established himself as one of Techno's most in-demand artists, remixing renowned acts like Nina Kraviz, Ellen Allien, Marco Faraone, Emmanuel Top (one of his key early influences) and more, not to mention collaborations alongside Len Faki and Amelie Lens. Further bolstering his reputation as one of modern Techno's most prevalent names, Regal's own productions have been remixed by heavyweights such as Mark Broom, Jeroen Search and Radio Slave.
Currently based in Spain but from Italian origins, Regal's career has taken him across Europe to Berlin, a key factor in his artist evolution and one that launched him onto the international scene with authority. Known for his ability to move between influences and sub-genres, his style is eclectic as he draws from pockets of sound across the electronic sphere, with tinges of Trance melodies and Acid undercurrents at the centre of his ever-evolving sound, tailoring the perfect mix between strong rhythms and melodies that enchant the soul.
Along with homing his own productions and stand-out collaborations with the likes of Amelie Lens and Alien Rain, Regal's Involve imprint has established itself as more than a techno label since its birth in 2012. Known for delivering the best 303 infused acid sounds, the imprint has welcomed artists including Boston 168, FJAAK, Cosmin TRG, Bambounou, Z.I.P.P.O and Truncate, with a forthcoming EP from Italy's Fabrizio Rat, featuring remixes from techno heavyweights Ø[Phase] and Shlømo.
As a DJ, Regal's dynamic and impactful style has led him to play revered sets across a host of renowned clubs and festivals such as Berghain, Fabrik Madrid, Awakenings, DGTL and Exhale, whilst he also is a core resident at KHIDI, one of the key clubs at the forefront of Tbilisi's thriving techno scene. His 2018 EP  'Involve 020' – the collaboration with Amelie Lens –and 'Still Raving' were two of the most applauded releases of 2018.
In 2019, Regal joined forces with fellow acid aficionado Alien Rain (a.k.a Milton Bradley) for their 'Acid Affair' EP, and had a heavy involvement across Ellen Allien's BPitch imprint. The Italo-Spanish artist marked his debut on the label with rave-esque track 'The Eyes', followed by a remix of Allien's 'Electronic Joy'. Carving his legacy deeper into the global techno scene, 2019 saw Regal's second stint at Boiler Room in addition to featuring as DJ Mag Spain's October cover star.
With appearances lined up at some of dance music's most renowned venues and festivals and a further release on BPitch for the rest of the year, Regal is set to deliver all the way into 2020, marking his most prolific year to date.