Aérea Negrot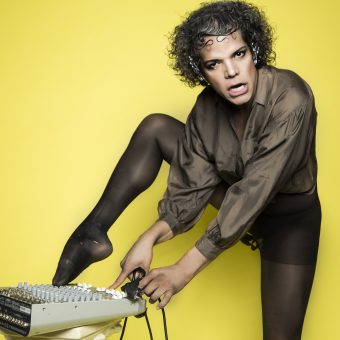 Biography
Aérea Negrot is a multi-purpose, long-lasting singer-producer-DJ-composer-performer in a bottle. Just as her name is not simple to pronounce, Aérea Negrot's style is not easy to categorize. Of course, that's not to say that her music is inaccessible or obtuse, but rather that she has crafted her own unique approach, combining technoid grooves, operatic vocals and abstracted pop. As a studio producer, vocalist, trained ballet dancer and DJ, she owns not just the stage but also the means of production. Aérea Negrot allows her various disciplines to overlap into something delightfully demented, bursting with personality, nimbly leaning toward the future while still keeping one pinky-toe in the traditions of classicism.
Actively performing since 1999, Aérea released her full-length debut artist album, Arabxilla, on BPitch Control in 2011. The Guardian described it as an "atmospheric house and techno record given to Weimar cabaret interludes and jazzy inflections" and praised it as "sublime". Indeed, both her Venezuelan background and her home base of Berlin (with excursions elsewhere in between) have left an imprint on her work. Germany's Zeit also took note of the international appeal in the polyglot's music, terming it "Disco Esperanto", Vogue Paris praised Arabxilla as "burning and icy at once" and compared her to Klaus Nomi and Grace Jones, while U.S. magazine Magnet named it their #1 electronic album of the year. From nightclub mecca Berghain to the Sydney Opera House, Aérea's performances have won new fans in a variety of settings. In her own words, all she has to say about her music is that it is not from the heart, not from the brain—"It's from the liver."
Since Arabxilla, she has been jumping from net to net remixing for artists like Mamacita (Klack Records), Shaun J. Wright, Stereogamous, Alinka (Tribal & Twirl), Zhala (Konichiwa Records), among others.
Aside from her solo material, Aérea Negrot has also had a number of noteworthy collaborations, including a years-long stint with Hercules & Love Affair. She first met frontman Andy Butler in 2005 at the merch table of an Antony & the Johnsons concert in Berlin, and a few years later became part of the touring lineup. Aérea then collaborated on several tracks of Blue Songs, the band's second album from 2011. The following year, she provided vocals on three tracks from tobias.'s Bending Over Backwards on Ostgut Ton Records. She has also hit the studio with the likes of Matias Aguayo, Miguel Toro, Billie Ray Martin, System of Survival, Massimiliano Paggliara for duets and Collaborations
Whether in the DJ booth, churning away in the studio or onstage at a concert hall, Aérea Negrot lets her creative juices flow—or rather, burst all directions, like from the nozzle of a spray bottle…
Dates
Date
Date
Artist(s)
Event
Venue
Event
City
Country
Links
Oct 02
We Are Not Alone x Institut für Leipzig
Institut für Leipzig
We Are Not Alone x Institut für Leipzig
Leipzig, DE
Leipzig
DE
Nov 03
KitKatClub
Berlin
DE