False Witness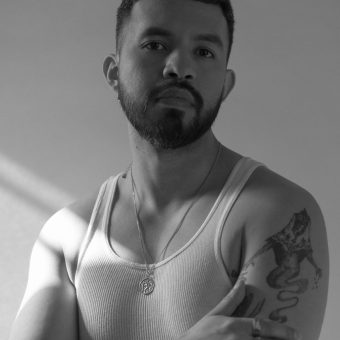 Biography
Marco Gomez aka False Witness (b. 1988, Boston) is a musician, DJ, visual artist, and founding member of the KUNQ artist collective. Since as early as 2012, they have contributed to both the global art and dance music scenes, with mixes for DIS Magazine, Editorial Magazine and Trax Magazine (Paris), along with contributions to the 2013 Venice Biennale and 2014 Frieze Projects in London. Since then, they've shared the stage with acts like SHYBOI, Matrixxman, Clara Cuvè, Hadone, Hector Oaks, SPFDJ, MCMLXXXV, Cem, Tzusing, Remco Beekwilder & Juliana Huxtable. In addition to their solo production work, they are also one half of FALSEBOI, alongside SHYBOI.
Before they left NYC in 2019 for a brief stint to study in Los Angeles, they helmed their own event "In The Dark" at Myrtle-Broadway nightlife hubs like Bossa Nova Civic Club and Mood Ring. There, they focused on bringing artists from across disciplines and mediums to the DJ booth. These parties brought people from all walks of life, and quickly became a monthly favorite amongst dedicated club goers and queer artists.
False Witness has made notable contributions to the musical landscape with EPs for labels like Lobster Theremin, Possession Paris, E-Missions Recordings New York, GHE20G0TH1K, and singles for compilations like Whirlwind Trax, Allergy Season's Physically Sick 2 and Gays Hate Techno Vol. 2. They have toured globally at various institutions including Berghain, Tresor, Hyperreality Festival in Vienna, OiL Shenzhen, SXSW and Warm Up at MoMA PS1 in New York City. They are currently both a visual and music resident artist at Renate, Berlin.
Dates
Date
Date
Artist(s)
Event
Venue
Event
City
Country
Links
Jun 09
Nowadays Outdoor
Nowadays NYC
New York, US
New York
US
Jun 17
Salon zur Wilden Renate
Back Alley Sallys
Berlin, DE
Berlin
DE
Jul 23
Salon Zur Wilden Renate
Renate Klubnacht
Berlin, DE
Berlin
DE
Aug 05
Hus 7
FIST x IBNE
Stockholm, SE
Stockholm
SE
Aug 20
Wall to Wall Club Festival
RSO
Wall to Wall Club Festival
Berlin, DE
Berlin
DE
Sep 17
Salon zur Wilden Renate
RENATE Geburtstag
Berlin, DE
Berlin
DE