Safety Scissors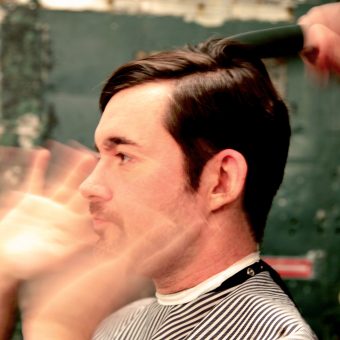 Biography
In the early stages of Matthew Patterson Curry's musical adventures he was surrounded by the likes of Kit Clayton, Sutekh, Twerk, Kid 606, and Matmos, the San Francisco experimental electronic scene in the early naughts, who provided musical support and inspiration for his first forays into production under his Safety Scissors moniker. In May of 2000 at the very first Mutek Festival, he debuted his singing and electronic music in a live context. The dub-tinged techno pop was culled into the Plug Research album Parts Water which received wads of international praise, hailed as a pioneering exploration of fusing songs with experimental techno.
Subsequent worldwide touring and invitations to well respected festivals soon followed, leading him to his obligatory Berlin stint. With Tainted Lunch, his second full length album which was released on Pole's ~scape label, he strayed further from his initial techno roots, defining his own brand of "dork pop". His non-singer singing was more present and the structures echoed radio friendly tunes enlisting musical help from friends Kevin Blechdom, Francoise Cactus (Stereo Total), and Erlend Øye. He also has lent his talents for numerous remixes of artists in all shapes in sizes (including Matmos, Sketch Show featuring two members of Yellow Magic Orchestra, and indie bands like Grizzly Bear and Architecture In Helskinki).
During all this he also founded his Proptronix label, releasing acclaimed acts like My Robot Friend and the Pigeon Funk project. Returning to San Francisco eventually he became immersed in the world of audio post production, while he still hung out with his synthesizers at night.
With thirst for growth he relocated to New York in 2010, and between his audio work for artists, composing for ads, DJ gigs and exhausting socializing has completed a third album, which embodies both a more cultivated pop sensibility but also harkens back to his mellow and moody early material. After far too long, Safety Scissors is ready to return to music in 2013 with vigor and sincerity. In A Matter Sleeping encapsulates an extended period of time that Safety Scissors was dormant in the scope of musical press and releases. Besides the standard love and identity fare it covers themes of writer's block, sloth, perseverance, happenstance, infinity, and relativity.