We Love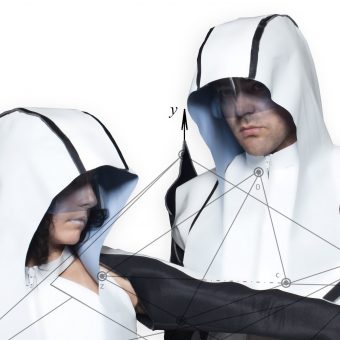 Biography
WE LOVE are Giorgia Angiuli, (a.k.a metùo), composer and multi-instrumentalist and Piero Fragola (a.k.a. Werk Design), graphic designer and videoartist. The project started on a cold Winter Sunday in 2009.
On returning from their holidays, they randomly met young music producer and remixer Marco Palazzo (a.k.a. Keith) in a railway station; a collaborative project with him soon began, resulting in their first and homonymous album on Bpitch Control. It is again in a railway station that they created their first composition "Escape Destination", followed by another 9, all connected to one another by the unifying theme of visions and travel ("When the window of a train takes you somewhere." – WE LOVE.)
The Band's acoustic and electronic instruments charm with their bichromatic, black and white allure: a vintage heart-shaped guitar, a contemporary design self-made midi controller (which was sponsored by Italian I&S furniture and fashion design company), a drum machine, and two keyboards, complementing Piero and Giorgia's voices. Their objective is to explore the relationships between various forms of aesthetic expression, such as sound, visual art, fashion and design.
WE LOVE are not "just another electro band": their consistent collaboration with professional artists (amongst whom are David Campanini, Diana Ferri, Jamaica De Marco and Elliott James Shaw) has produced original performance pieces. The band's bichromatic video art provides the backdrop for the amazing pair of "soldiers of love"'s live sets, which are embellished by romantic and evocative contemporary style clothes and masks. Art visuals caress the stage set with luminous random movements, as in a stream of consciousness gushing out of everyday life. Actions rapidly take place one after the other, and one often feels overwhelmed by countless fleeting external stimuli as blank sheets of paper vanishing into nothingness.
In an innermost dimension of vision, there is always something which prevents us from being transparent: LOVE.