Dillon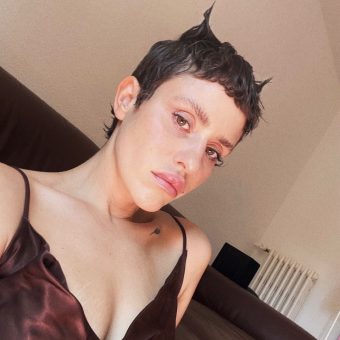 Biography
My name is Dominique Dillon de Byington, and I was born in Sao Paulo, Brasil, in April 1988. Five years later, I moved to Cologne, Germany, where I was raised. Driven by solitude and a desire for company, at 17, I taught myself how to play the piano to accompany the sung poetry I had been working on and began uploading those to YouTube.
At 18, I moved to Berlin. Around that time, I started performing short live sets of perhaps 25 minutes. Half of those sets would consist of piano and vocals, and the other half of very unsophisticated electronic compositions and vocals. Performing did not come naturally to me, but it felt necessary to keep doing it.
In 2011, at the age of 23, I released my first album, a collection of songs I had written until that point, This Silence Kills, on Ellen Allien's label BPitch Control. I worked on it with my dear friend, sound artist Tamer Fahri Özgonenc and Thies Mynther and recorded and produced it in Hamburg, Germany. One song on the Album, Thirteen Thirtyfive, seemed to have hit a nerve, and I went on tour all across Europe for what felt like an eternity before writing and releasing my sophomore album, The Unknown, in 2014.
Writing has always been a very intimate process for me, and these two albums have always belonged together. I would often refer to them as one body of work, calling it This Silence Kills the Unknown.
So when Berliner Festspiele invited me to close their festival at Haus der Berliner Festspiele in 2014, I decided to merge them even further. I asked Tamer to help me compose a four-part choir to a selection of songs from both albums, which we went on to perform with a 16 piece choir. In 2015 I released Live at Haus der Berliner Festspiele, a live album, with its European Tour allowing me to conclude this artistic chapter.
Craving change, I began working on the next album, focusing on adding brass elements to my otherwise mere electronic soundscapes. Teaming up with Tamer once more, but this time also working with Teengirl Fantasy's Nicolas Weiss and Noise Producer Samuel Savenberg, we produced and recorded the album in Berlin. Kind was released on Pias Recordings in 2017 after premiering it with the original brass ensemble at Elbphilharmonie.
On tour once again, I started researching producers, and that's when I ended up streaming Alexis Troy's Dreadtape. Alexis is a Greek-German Artist and Producer. His dark and warm production triggered something so soothing in me. His Madonna and Sisqo edits touched and inspired me to write like nothing before. In the past, I would write sitting at the piano or simply singing into my iPhone, but this time I felt like writing, listening to his sound.
I found him on Instagram, shot my shot, and we decided to meet up. We spent two hours together and then decided to work on something. We couldn't have anticipated this then, but we would spend the next four years sending each other sketches back and forth without ever meeting in person again. During those four years, I released an EP, When Breathing Feels like Drowning and went on to score Hamlet at Thalia Theater in Hamburg. In early 2020 I gave birth to my first child, and a month later, Covid shut down the vast majority of the global art and music scene, to name a few.
6abotage is the unapologetic manifestation of this musical collaboration. A hybrid in its true sense, this album is a love letter, a cry for help and a consequence, all in one. Written, produced and recorded in complete isolation without Alexis and I ever being in the same room, 6abotage reflects today's zeitgeist like none of my albums before. It is sore and desperate but also reassuring and devoted. 6abotage is a successful protest. A protest against stereotypes and preconceptions. A protest against excessive suffering. A protest for self-love. A protest for patience and vulnerability. A protest for forgiveness and growth. It will be out on Bpitch Control this Autumn.