Alan Oldham aka DJ T-1000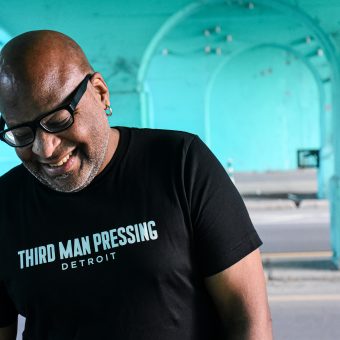 Biographie
Alan Oldham has been called Detroit's Renaissance Man, a true Motor City original.
From his beginnings as a member of Underground Resistance (replacing Jeff Mills), to seminal releases on Tresor Berlin, BPitch Control, Third Ear, Suspected, Elypsia Records (under his Detroit Rocket Science alias), his own Pure Sonik label and many others, to remixes for such heavyweights as Loco Dice and Ellen Allien, to his legendary artwork for such labels as Transmat, Djax-Up-Beats, New Religion, Houndstooth, Dark Entries, and more, Oldham does it all.
Under his stage name of DJ T-1000, Oldham has criss-crossed the globe rocking dancefloors from Amsterdam to London to Rome to Tokyo to Shanghai to Mexico City to his native Detroit and back to his current home in Berlin, where he holds down residencies at Tresor Berlin and Suicide Circus.
As an illustrator who started out in the indie comics scene of the mid-1980s, Oldham levelled up to canvases and has had successful international gallery shows in Amsterdam, Vienna, Paris, Stettin (Poland), Detroit, and  Berlin, with more to come.
Over 25 years in the game, and Oldham remains at the forefront of both art and music.
Born and raised in Detroit and based in Berlin, Alan Oldham a.k.a. DJ T-1000 has been called "Detroit Techno's Renaissance Man," Not only is he the owner of the legendary Detroit labels Generator and Pure Sonik, and a veteran international techno DJ, the Detroit-born polymath is also an accomplished graphic illustrator, known globally for his iconic artwork for Djax-Up-Beats, +8 Records, Transmat, Astralwerks and many other electronic music labels.
A globally-known DJ, Oldham as DJ T-1000, still keeps to his old Underground Resistance vinyl roots. He is a veteran headliner of such festivals as Love Parade (DE), Awakenings (NL), E-Troit Festival (NL), N.A.M.E. Festival (FR), and Movement (USA). He has been a resident at both Tresor Berlin (DE) and Moog Barcelona (ES), as well as regularly playing dates all over Europe and the world, including such recent Asian destinations as Manila and Shanghai.
Oldham is also behind the Detroitrocketscience alias, which has spawned an acclaimed series of sci-fi inspired 10-inch releases and an all-digital DJ set-up that is more streamlined and modernistic than the old-school vinyl approach. Vienna, Lyon, the legendary Hammerhalle at Sisyphos, and Globus in Berlin have recently hosted Detroitrocketscience sets.
Beginning in 2011, the immensely-talented Oldham launched a series of successful, sold-out art happenings in Paris, Amsterdam, Los Angeles, Barcelona, Vienna, and Berlin, translating his comics-inspired, techno-defining Djax-Up-Beats style to paint and canvas! His originals are owned by the likes of Derrick May, Radio Slave, Ben Sims, Steve Bug, Cisco Ferriera (The Advent), Marsel Delsin (Delsin Records), Steve Parker, Ritzi Lee, and other famous techno notables. Commissioned work, most recently for Berlin's  legendary Dr. Motte, also fills his daily schedule.
Recently, Oldham was named one of the "10 Best Sleeve Designers" by DJ Broadcast (www.djbroadcast.net) https://www.djbroadcast.net/article/130461/top-10-record-sleeve-designers
Termine
Datum
Datum
Künstler
Event
Venue
Event
Stadt
Land
Links
Okt 02
We Are Not Alone x Institut für Leipzig
Institut für Leipzig
We Are Not Alone x Institut für Leipzig
Leipzig, DE
Leipzig
DE
Dez 01
://about blank
Berlin
DE